30 best Venue for Christmas Day Lunch and Dinner in Sydney
Here's a list of some of the most popular restaurants open on Christmas Day and during the Christmas holiday.
Whether you're planning a themed party or just want to grab christmas lunch without the hassle of finding a restaurant open on Christmas day, we've scouted out the best local places for christmas lunch and dinner to satisfy your culinary needs.
Restaurants open Christmas Eve for Dinning
The Grand Palace – Indian Restaurant is a hidden gem of Sydney, tucked in a basement hosting a royal decor. Opened during COVID time, the restaurant has managed to make a name for itself which can primarily be attributed to a huge variety of dishes they offer and their unforgettable authentic taste. This restaurant is quite popular amongst people from Indian Subcontinent who prefer to dine in the city.
The restaurant boasts a royal decor giving an impression of bygone era of Indian palaces. The staff is attentive and courteous. They also have a wide range of drinks ranging from spirits and wines to cocktails and mocktails.
The restaurant is usually frequented by groups of office goers in varying sizes during the lunch times, and families during the dinner. The prices are reasonable for a fine dine restaurant considering its location in the heart of CBD.
Due to its convenient location on George Street, Wynyard station, and Opera House, a lot of corporates prefer to host their Christmas lunch and dinner at The Grand Palace – Indian Restaurant. For larger groups, they have several set menus on offer and are usually happy to accommodate specific dietary requirements including vegan. They also offer customised packages including drinks.
If you are looking at having fantabulous Indian food for Christmas lunch or dinner either with your office mates or with family, The Grand Palace Indian Restaurant is the place to go. Quality of their food, majestic ambience, and attentive service is sure to turn your Christmas meal into a memorable experience.
Address: Basement/261 George St, Sydney NSW 2000, Australia
Whether you're planning a corporate Christmas dinner or christmas lunch, Mode Kitchen & Bar Restaurants has some great options for you! They can accommodate groups of any size and have several exclusive packages that can be customized to fit your specific needs. Plus, their stellar food and house wine selection will make your event one to remember!
Head Chef Francesco Mannelli and his team have specifically created a delicious range of specially created dishes for the Christmas menu.
The course menu includes dishes such as roasted giant snapper sautéed with salsa verde and sambal sauce, where you'll find an array of festive creations to indulge in. There is flavourful Prime Rib roast, sautéed Sydney Rock oysters, dark-roasted festive ham with a maple and orange glaze, roast free range turkey in cranberry sauce with all the trimmings and decadent desserts for you to enjoy.
Enjoy Christmas eve with some of their cold beverages or reserve space for some desserts, such as their famous Pavlova!
Address : Ground Floor, 199 George St, NSW 2000, Australia
Christmas at Terrace on the Domain, offers an unforgettable christmas day lunch in the heart of Sydney. Enjoy a decadent Christmas lunch, in one of its many outdoor cafes, with views to die for and paired beautifully with locally sourced dishes from the Italian flavors.
For the full experience, don't miss honey glazed ham, dessert or wine! Merry Christmas everyone!
Address : 1 Art Gallery Rd, Sydney NSW 2000, Australia
4. Feast – TBC for 2022
Feast is perfect for your next corporate event for Christmas day. This restaurant is definitely worth checking out if you're looking for something special on Christmas lunch.
The feast restaurant is also perfect for celebrating a special occasion with friends.The Restaurant will have carving festive dessert stations, plus Christmas pudding favorites like honey-glazed christmas ham and roast turkey.
Course menu includes classic dishes like pasta, salads and festive mince pie. Adults can enjoy a glass of bubbly as part of their Christmas spread.
Address : 161 Elizabeth St, Sydney NSW 2000, Australia
On Christmas Eve, enjoy a delicious christmas lunch and dinner with fresh seafood, salads, sushi, and sashimi. Choose from a variety of salads, grilled meats and Asian cuisine.
Enjoy some decadent desserts to top off the night.
Address : 89-113 Kent St, Millers Point NSW 2000, Australia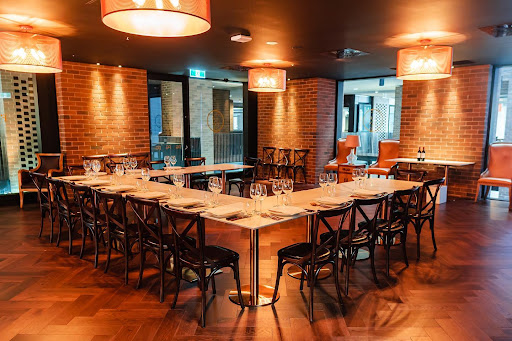 Firegrills are perfect for hosting a traditional christmas dinner. You can grill up some delicious meats and vegetables, and serve them up with some tasty sides.
Plus, they provide an amazing atmosphere for your christmas eve. From starters to main courses, there's something christmas favourites for everyone. And don't forget about the desserts! They offer great rates and amazing service.
Address: 151 Clarence St, Sydney NSW 2000, Australia
Let the Botanic House chef do the heavy lifting and host a festive Christmas lunch. Their menu has an Asian edge but fuses with indigenous ingredients to inspire a christmas day lunch.
They also have a wide range of matching wines options, so you can find the perfect one to complement your dinner. The restaurant has an extensive course menu that includes a variety of dishes, all of which are perfect for celebrating christmas day
Address : 1 Mrs Macquaries Rd, Sydney NSW 2000, Australia
Set high above the city, O Bar and Dining offers a revolving restaurant with an ever-changing view of Sydney's magnificent icons. Head over to check out their delicious 5-course service (or 3-course for children) full of dishes like: pumpkin, Parmesan ciambella; yellowfin tuna sashimi, lobster & scallop ravioli, roast turkey, and plenty of sides.
The christmas lunch cuisine here is top notch, and the staff are committed to providing you with the best possible service.
Address : 264, level 47 George St, Sydney NSW 2000, Australia
Go on an all-new level for your Christmas lunch or Christmas eve , by spending it 245 meters in the sky on a Cloud at Infinity Sydney Tower.
With the 360-degree revolving restaurant, enjoy a delicious feast perched high in the sky of Sydney with views to die for! The Christmas Eve dinner menu includes abundant food from a 5- or 3-course meal! Their lunch special includes three courses of pure festive indulgence.
Plus, They have a wide variety of cocktails, wine, and food options to choose from so you can put together vast christmas day feast for any corporate occasion! Here you can enjoy Corporate Christmas lunch!
Address : 108 Market St, Sydney NSW 2000, Australia
Otto Christmas means premium seafood platter, which is appropriate because it's waterfront location in the Finger Wharf.
Otto is hosting a 4-course extravaganza of delicate appetizers such as seared scallops and zucchini flowers, stunning pastas like lobster linguine and Strozzapreti with King pawns, Tajima Wagyu Sirloin, fish of the day and more, desserts that range from Meringue to an entire cheese board on arrival plus unlimited beverages for 4 hours.
Address : Area 8, 6 Cowper Wharf Roadway, Woolloomooloo NSW 2011, Australia
Seta Sydney restaurant is perfect for family-friendly gatherings, and they offer plenty of exciting menu options to choose from.
From starters to main courses, they have something for everyone. Plus, it includes alcoholic and non alcoholic drink so you can enjoy christmas day out without having to worry about driving home afterwards!
Address: 11 Barrack St, Sydney NSW 2000, Australia
The Winery wine bar is a welcoming and cozy place to be on any day, but especially on Christmas day.
The Winery will be hosting a delightful 3-course delicious Christmas Lunch with bookings open for 12 p.m. to 3 p.m and will also offer two beverage packages.
You can also reserve the entire restaurant for your event, or you can choose to have separate sections for dinner and cocktails. Plus, the staff is highly skilled in creating magical Christmas dinner tables.
Address : 285A Crown St, Surry Hills NSW 2010, Australia
Silvester is a restaurant that showcases international cuisine and makes use of unique flavors and ingredients available seasonally.
Of course, They also offer a variety of Christmas day lunch packages that will make your event unforgettable.
Address : 1 Bulletin Pl, Sydney NSW 2000, Australia
Hubert is a restaurant for people who enjoy the type of big night out that begins in the bar, moves onto the theater, and lingers long after consumed on cheese and Cognac.
At the main entry of Hubert restaurant we see three bars. It is suitable for any occasion, for eating in or entertaining guests.
Hubert is the perfect spot for your next christmas party. This restaurant has a festive atmosphere and plenty of room to celebrate.
Address : 15 Bligh St, Sydney NSW 2000, Australia
Every 10 weeks, they create a unique eight-course tasting menu with an ever-changing theme.
Nelly Robinson, a renowned Australian chef, offers seasonal tasting menus for his customers to enjoy. They use both professional techniques and innovative twists to surprise and delight his guests with flavor combinations developed from time-honored recipes for Michelin-rated restaurants in the United Kingdom.
There's even a special menu available just for Christmas Day lunch, so there is something for everyone at nel. Restaurant Sydney.
Address : 75 Wentworth Ave, Sydney NSW 2000, Australia
Their lobby is adorned with many beautiful things, but one that is unusually a gem is Luke's Kitchen, which offers food services custom-built by Australian chef and owner, Luke Mangan.
Regardless of the time you visit a variety of matching wines and carefully selected cocktails are only steps away all day. The 1930s lounge bar that beckons those looking for an alcoholic beverage is open throughout the day.
Whether you're planning your first christmas lunch or dinner on christmas day, or you're looking for a new place to celebrate with friends, Luke's Kitchen at Kimpton Margot Hotel Sydney is the perfect location.
Address : 339 Pitt St, Sydney NSW 2000, Australia
Manta Restaurant has the perfect menu and location to host your next soft drinks party for Christmas day. Their talented and friendly staff will help you set up everything from appetizers to dessert.
In addition, the restaurant has a beautiful outdoor patio that is perfect for hosting any corporate christmas day lunch and dinner.
Address : 6/6 Cowper Wharf Roadway, Woolloomooloo NSW 2011, Australia
Glass Brasserie Perriamon is a restaurant with creative food and beautiful décor that combines luxury and excellence in the city of Sydney. The chefs specialize in innovative living, prepared specially for its guests.
Whether you're celebrating a special occasion or simply want to dine in exquisite style, The Glass Brasserie is Sydney's premier setting for Modern Australian cuisine.
Address : level 2/488 George St, Sydney NSW 2000, Australia
The Dining Room is a luxurious restaurant that serves Modern Australian fare with an traditional christmas fare. Well, there are many different ways to have a christmas lunch.
They specialize in elaborate Christmas meals that will leave your guests stuffed, happy and christmas carvery.
Address : 7 Hickson Rd, The Rocks NSW 2000, Australia
The Café del Mar is a Sydney restaurant where residents may dine, premium drinks package, and enjoy music. It has incredible views of Darling Harbour, which makes it great for events or meetings.
With the interiors created by Sibella Court, a renowned Interior Stylist, Cafe del Mar Sydney is an Ibiza restaurant that radiates elegance and charm. They use colorful palettes with plush robes to transport guests to the golden sands of Spain.
With a Spanish heritage, The cuisine is influenced by the Spanish and French cuisines. Italian feast and Australian accents are also evident for fresh seafood platters.
Address : 35 Wheat Rd, Rooftop Terrace, Cockle Bay Wharf, Sydney NSW 2000
This restaurant offers a variety of dishes, all of which are perfect for celebrating the holidays. From starters to mains, there is something for everyone at Memento Bar and Bistro.
Plus, the restaurant offers special discounts during Christmas day trading hours. So don't wait – book your table today!
Address : 2 Bond St, Sydney NSW 2000, Australia
This restaurant is perfect for an intimate christmas day lunch.This restaurant is known for its festive dishes, festive drink and lovely atmosphere.
This restaurant has a wide range of traditional christmas dishes, as well as some more unique options. Plus, their lunch specials are perfect for a quick bite on Christmas Day.
Address: 24 York St, Sydney NSW 2000, Australia
With a prime view of the Opera House, Harbourfront Seafood offers Christmas 'four course menu platter' for every guest on the harbor side for a memorable holiday meal.
A four-hour beer or wine pour is available at the adult rate, and Christian music is on offer for all ages. Santa will also be visiting the bar to present gifts to children; otherwise it's a regular evening with family and friends.
Address : Campbell's Stores Bay 1-3, 7-27 Circular Quay W, The Rocks NSW 2000, Australia
24. Gowings – TBC for 2022
Gowings restaurant has a wide variety of food options to choose from, so there's bound to be something for everyone. Plus, their special christmas lunch deals make it even more affordable.
This restaurant is known for its delicious Christmastime menu. From starters to desserts, there's something for everyone at Gowings.
Address : 1/49 Market St, Sydney NSW 2000, Australia
Take your whole family out on Christmas Eve and enjoy one of Chiosco's six share-able menus, or choose from the restaurant's selection of over 50 wines by the glass. If you feel like celebrating at home, let Chiosco cater for you!
Address : d'Albora Marina, Spit Rd, Mosman NSW 2088, Australia
Restaurants in Darling Harbour are offering a delicious four course tasting menu
The menu includes starters such as antipasti and a Chicken Parmigiana.
Address : ICC Sydney, tenancy 2/14 Darling Dr, Sydney NSW 2000, Australia
27. Q Dining – TBC for 2022
Q Dining offers a luxury Christmas Day three course lunch meal with views of the beating heart of Sydney- this stunning venue is not undersold.
Start your holidays off with a bang, fully inclusive for adults and children.
Address : 61 Macquarie St, Sydney NSW 2000, Australia
At Sailmaker Restaurant Sydney, they have a reason to celebrate with their winter menu. They offer bountiful fresh seafood, a range of cheese and fresh seafood platters options.
For main course, stations will be serving up festive meats, vegetables and more for a budget-friendly price. Lastly, enjoy Christmas classics like mince pies, pavlova and Christmas cookies!
Address : Hyatt Regency Sydney, 161 Sussex St, Sydney NSW 2000, Australia
29. Anason – TBC for 2022
What will your Christmas Day lunch menu look like? Here are some great Christmas Day dishes that are made fresh for the chef's table every day.
Have salmon tartare, cig kofte spices, and rice cracker, a seaweed salt from around the globe to add some light international flavor.
Address : 5/23 Barangaroo Ave, Barangaroo NSW 2000, Australia
There'll be lavish canapes, a selection of grazing stations, seafood, BBQ, Paella, Charcuterie and desserts. There will be a visit from Santa for the kids!
Address : 1 Grand Dr, Centennial Park NSW 2021, Australia
FAQ for Christmas Lunch and Dinner Restaurants
Where to find the best Christmas buffet lunch or Christmas buffet dinner in Sydney
Christmas buffet includes unlimited servings or shared plate service. You may find dining at a buffet is more convenient, while still allowing you to keep your diet. The Grand Palace – Indian Restaurant can be your all your Christmas favourites.
What is a traditional Christmas day lunch menu?
Christmas lunch is similar to Thanksgiving, which consists of roast turkey, turkey stuffing, mashed potatoes, gravy, green beans, dinner rolls, cranberry sauce and pies such as apple or pumpkin. Other non-traditional main dish favorites are honey glazed ham, smoked ham, roast beef or lasagna.
What is the most popular dessert at Christmas?
While cheesecake is eaten all around the festive season, the dessert of choice in many states during the holidays are cake, cookies, and christmas pudding.
What wine goes with Christmas dinner?
Oaked Chardonnay has a buttery, nutty quality to it that complements your roast perfectly. When the wine is in oak barrels for an extended period of time, the oak gives the wine a nice tang, mingling with more nuttiness. The oak also adds a slightly fruity fragrance to the mix, which will be perfect with your Christmas dinner seasonings.
Other Guides
Best Vegetarian Restaurants in Sydney
Best Halal Restaurant in Sydney
Best Restaurants In Sydney For Lunch
Best Fine Dining Restaurant in Sydney
Best Group Restaurant in Sydney
Best Asian Restaurants in Sydney
Best Asian Fusion Restaurants in Sydney
Best Indian Restaurant In Sydney
Best Corporate Catering Services in Sydney
Top restaurants to book for Valentine's Day 2023 in Sydney
Best Wedding Caterers in Sydney
Best Birthday Party Caterer in sydney
Best Mother's Day Restaurant in Sydney
Best Easter Restaurant in Sydney
Best Vivid Restaurant in Sydney
Best Indian Restaurant in Northern beaches of Sydney