15 Best Corporate Catering Services in Sydney
Conventionally, choices for office catering are limited to sandwiches and pizzas. Having Indian curries, rice, and naan (Indian bread) for office catering is a far fetched thought but that's what The Grand Palace Indian restaurant is offering. One of the hidden gems of Sydney, The Grand Palace Indian Restaurant is located underground at 261 George Street, Sydney CBD. It has wonderful ambience, grazing tables and the most authentic Indian cuisine in Sydney. But what if you can't go there and want to bring their diverse range of food to your office for your events? TGP offers corporate catering service as well. Almost everything they offer for dine in is available for corporate catering sydney. They can customise the dishes as per your requirements, make them spicy or milder, cater to special requirements such as vegan. You can either pick up the food or they can arrange for delivery.
If you are looking at lightening up the food scene at your next office event or for personal occasion, surprise your colleagues and guests by ordering the Indian food from TGP. You will not be disappointed.
Address: Basement/261 George St, Sydney NSW 2000, Australia
The Grand Palace in Mona Vale offers small corporate catering services for businesses in the area. Our catering menu includes a variety of delicious dishes that are perfect for corporate events such as meetings, conferences, and office parties.
Our team of experienced chefs use only the freshest ingredients to create dishes that are both tasty and visually appealing. We offer a range of catering options to suit different dietary requirements, including vegetarian and gluten-free options.
Some of our most popular catering dishes include our gourmet sandwiches, fresh salads, and mouth-watering platters of cheese, fruit, and crackers. We also offer a selection of hot dishes, including our famous chicken skewers, meatballs, and mini quiches.
In addition to our delicious food, we also provide professional catering services, including delivery, set up, and clean up. Our team will work with you to ensure that your event runs smoothly and that your guests are well-fed and happy.
If you're planning a small corporate event in Mona Vale, consider The Grand Palace for your catering needs. We're committed to providing high-quality food and excellent service at an affordable price. Contact us today to learn more about our catering options and to place your order.
Address : 1725 Pittwater Road, Mona Vale NSW 2103
Sandwiches are hands down the winner when it comes to choosing the food for Lunch and Learn, a seminar or an event in the office or a personal occasion such as birthdays or milestone celebrations. They are convenient to eat, offers variety, and most importantly do not make a mess. Undoubtedly, Sandwiches are ruling the roost. Enter the Indian finger food offering from Curries N Kebabs into the arena, and there is now a serious challenge to Sandwiches.
Curries N Kebabs is a trendy Indian take away restaurant located in the food court aptly named as Food@259, located at 259 George Street. They offer not only popular delicious curries, but also popular Indian finger food such as Vada Pao (Indian Potato Burger), Chicken Slider (Indian Chicken Burger), Lamb Wrap, Veg Pitta, and Crab Pitta to name a few. These are very convenient for eating just like the sandwiches, with an additional advantage of being super delicious. Best part is CNK makes the food fresh, and can arrange for pick up or delivery or you can get it delivered by ordering from their delivery partners such as Ubereats, Menulog, Doordash and deliveroo .
So the next time when you have a need for catering either at the office or a personal celebration, and you are looking for choices beyond boring sandwiches, knock on CNK's door. They can be contacted via email, their website, or phone. Who say's office catering can't be spiced up?
Address: Food@259, 259 George St, Sydney NSW 2000, Australia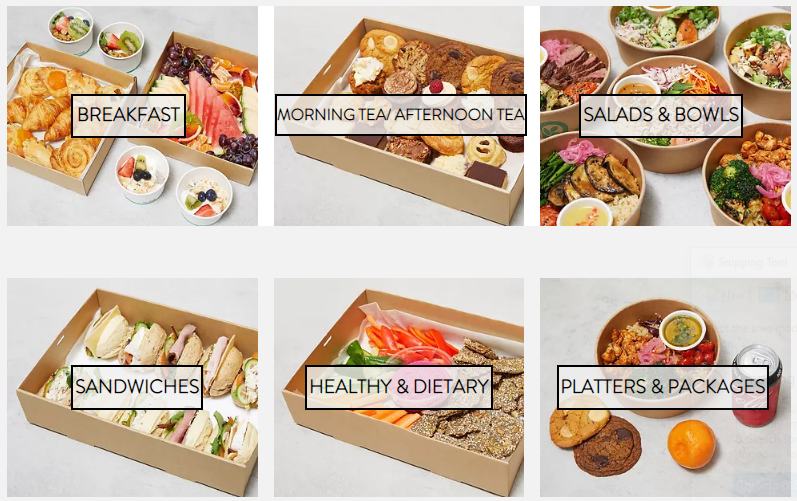 Making a memorable impression on your guests at your next corporate function doesn't have to be hard. Corporate Catering Sydney specializes in catering needs, providing first-class food that's customized around your needs.
They offer personalized menus that meets the tastes of everyone at your corporate event. From fine dining to casual fare, from breakfast in bed to buffet spreads, their experienced catering team has it all covered. What's more, we have a passion for food and bring years of experience to ensure your meetings or special event runs with minimal fuss.
Address: 152 Falcon St, Crows Nest NSW 2065, Australia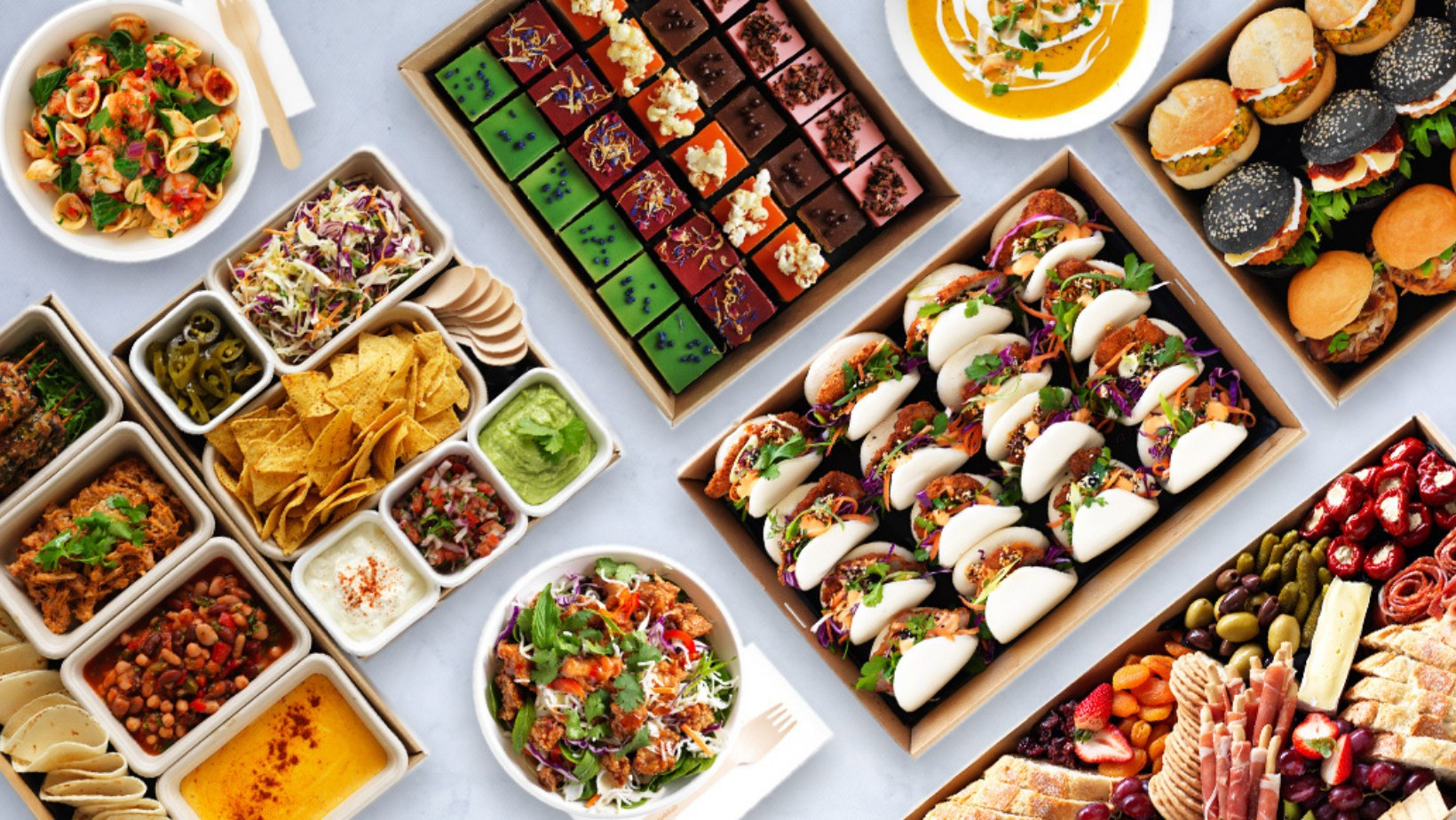 When you need catering for your next meeting or event, we'll have exactly what you're looking for. Vanilla Blue Catering' variety includes Breakfasts and Teas, Lunches, Special Diets, Cakes, Finger Food and Buffets.
Vanilla Blue Catering is perfect for any corporate event, and it features something to please everyone. Choose from their many breakfast, lunch and platter options, as well as finger food and dessert bars.
Address: 4/19 Hotham Parade, Artarmon NSW 2064, Australia
Square Catering is a favorite of many in the mountains and towns around. They provide fantastic, fresh food that their happy customers have loved celebrating their day with.
The Square Catering team is aware that not every event has a table or chair, and sometimes, an event is more suited to socializing. That's why they design food to be practical for all types of corporate events.
Address: Shop G02/76 Berry St, North Sydney NSW 2060, Australia
Feedwell Catering Sydney is Sydney's leading catering service provider. They provide nourishing food to thousands of Australians in a number of different ways. Their produce is local sourced from the Sydney markets each and every morning, with everything they use in their creations coming exclusively from Australian farms. They bring this same approach for catering in Sydney office. All of the sandwich platters, salad platters, and hot finger food platters they prepare are prepared from scratch on the day of your order and individually wrapped in eco-friendly packaging. This allows them to delivered your food at the perfect time. Feedwell Catering offers gift cards.
Address: 56 Pitt St (Corner of, Bridge Street, Sydney NSW 2000, Australia
Radish Events is a corporate catering sydney company that focuses on ethical practices. They want everything to be as sustainable and green as possible, from sourcing responsibly grown/raised produce and meats, to designing menus that use every part of the ingredient (even if it means using exotic fruit and spices!), all the way up to serving with eco-serveware and compostable materials. If you're looking for tasty grub that's good for you and the environment, Radish Events is a good fit.
Address: Shop 5/29 Applebee St, St Peters NSW 2044, Australia
Catering Project is a refined catering partners that specializes in Private events across Sydney cbd. Using top-quality ingredients sourced and produce, they design their own mini food creations that are delivered to your workplace. The Catering Project kitchen is located in the CBD, making it easy to accommodate corporate catering and private events clients. They offer more than 100 different collections from which you can select or create your own individual order.
Address: 1051 Bourke St, Waterloo NSW 2017, Australia
One Pot Catering, premier caterers in Sydney and event planners, specialising in corporate catering (intimate or lavish), beach parties, garden parties, lunch, drinks, corporate cocktail parties, boardroom luncheons, or simply entertaining your family and friends at home. Whether it is an informal backyard barbecue or an elegant soiree, let the owner and creator of One Pot Catering, Wayne work his magic.
Address: 244 Rocky Point Rd, Ramsgate NSW 2217, Australia
Bespoke Catering Sydney offer elegant three-course dinners, cocktails parties and even weddings! With our fresh offerings, well-designed dishes and impeccable service, we make your experience unforgettable. Their team of talented chefs, event planners and designers are experts when it comes to crafting successful catering events.
Bring Your Next Event to Life. Delicious, Fresh and Elegant. Whether it's an evening cocktail party or a special day, They'll provide beautiful food, create delicious dishes and offer impeccable service so you can enjoy every minute of your time.
Address: Shop 1/125 Military Rd, Neutral Bay NSW 2089, Australia
With EatFirst you can choose from a number of catering needs, including breakfast catering, morning tea, finger food, and team lunches. They can even help with all your office pantry supplies (including office milk, fruit, coffee, sugar, tea, snacks and more).
With wide range of menus options, you can cater for dietary requirements. Whether you're catering for vegetarians, vegans or someone with lactose or gluten free catering, They'll be able to help.
Address: 6 Middlemiss St, Milsons Point NSW 2061, Australia
Established in 1991, European Catering Pty Limited is catering suppliers throughout greater Sydney. Featuring four restaurants, catering packages and staff service, they cater to a variety of people and events.
Eating healthier, more sustainable food doesn't need to be hard. European Catering offer a variety of delicious dishes that are low in calories and high in nutrients. Plus, all food is locally sourced produce and responsibly, which means they provide the best quality possible without compromising your health or the environment.
Address: Unit 9/566 Gardeners Rd, Alexandria NSW 2015, Australia
Make your next corporate event exceptional with Simon Ekas Catering menus. They specialize in seasonal flavour combinations, always maintaining the integrity of the products. Simon Ekas Catering will provide a refined service for offices, so you can focus more on your guests.
Simon Ekas Catering is revered for its top-quality produce and contemporary style. As the go-to caterer for events of all sizes, they deliver a bespoke and huge range service which assist the individual needs of clients while respecting both budget and guest list.
They offer an experienced and confident approach to event organization that guarantees you the experience of a lifetime. From planning stage to the event day, They make sure every detail is taken care of and our clients receive memorable events they'll cherish.
Address: 2/66 Whiting St, Sydney NSW 2064, Australia
When you're working with The Italian Table, They 'll work with you to create a customized menu for any event. From corporate catering breakfast, lunches, to elegant dinner parties, their catering services ensure that you and your guests will have the perfect experience. You'll be able to enjoy high-quality food at an affordable price-point, in a relaxed setting of your own choosing.
They have a team of experts who specialize in office catering for customizing beverages to suit any event or budget. For example, They 'll make sure your refreshments are the right type and size for your particular situation.
Address: 13 Queen St, Croydon NSW 2132, Australia
Other Guides
Best Vegetarian Restaurants in Sydney
Best Halal Restaurant in Sydney
Best Restaurants In Sydney For Lunch
Best Fine Dining Restaurant in Sydney
Best Group Restaurant in Sydney
Best Asian Restaurants in Sydney
Best Asian Fusion Restaurants in Sydney
Best Indian Restaurant In Sydney
Christmas Day Lunch And Dinner Restaurants in Sydney
Top restaurants to book for Valentine's Day 2023 in Sydney
Best Wedding Caterers in Sydney
Best Birthday Party Caterer in sydney
Best Mother's Day Restaurant in Sydney
Best Easter Restaurant in Sydney
Best Vivid Restaurant in Sydney
Best Indian Restaurant in Northern beaches of Sydney